<!img src="gfx/volvos.gif" border="0" align="left">


Introduction
On this page I'll try to explain how I would get such an idea to spend 50.000 kroner ($6000) on an almost 40 years old car.

The story began when my parents back in the '80 bought a used Volvo 142 '73. Not long after I learned what a reliable car the old Volvo truly was, and I grew to like this old Swedish brick.
Some years down the road, and serval long trips down south, it was time for that old car to be replaced.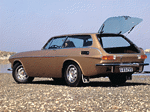 At this time I had gotten my drivinglicens and had often borrowed the Volvo. My parents began looking for another car and found a Volvo 240 '83. They found out that the cardealer wasn't gonna offer a whole lot for trading the old Volvo, and chose to sell it to me for the amount the cardealer offered.
As I now owned my own Volvo I was hooked for life, I'm sure you ain't going to find anything cheaper and more reliable to buy as your first car. The Volvo was cheap in parts, a safe ride, and easy to maintain by yourself.
Some years later I bought their Volvo 240 as they got a 460, but that's a whole other story.
Time went by, and I learned something about other Volvo models and heard about this kewl looking P1800. After some years I finally got to se it in real life in a small city called Odder outside Aarhus where both a coupe and an ES was daily driven.
This was it! that was the car I wanted to own, but as the poor student I was at that time I couldn't afford much more than gasoline, food and books. Some more years went by and I completed my study and got a job. Now I suddenly could afford it and started to look out for ads in the paper for these cars.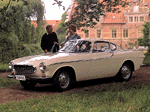 Not long after I found a P1800 for 35.000 ($4000) and I started to wonder if this was it. After a few days I called the owner and was told it was already sold! well bummer, but I got a chat with the previous owner Ole Callesen. He then told me that he might get another one for sale in the near future, and after a couple of weeks he got the car home. He put on a new exhaust and it was now ready for sale. The 23 of October 1998 I bought the P1800 A from 1962 and drove it back home dreaming of all the fun I was gonna have with this car.

After lightly going through the car I found the following faults:
- Gearbox grinds in the 3 lowest gears
- The door are hanging
- Loose rearend
- Bumpers from a Volvo 142
- Rust inside on the floorpans due to standing water
- Carpets destroyed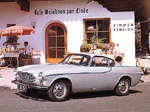 Beside these things the car was nearly rustfree, sometime in the '80 or '90 it must have gotten a renovation, because serval parts looked fairly new, such as panels, front-end and fenders.

After I had it parked in a rented garage, I got an offer to put it in a machinefactory. There is plenty of space, dry and possible to lend some tools. I'm now in the process of the renovation, and have invested in a digital camera, so you can follow the development on the other pages on my homepage.

The Project should be completed in the start of year 2000. With parts from Classic Volvo Parts and a little help from the Volvo 1800 club, this should not be unrealistic.